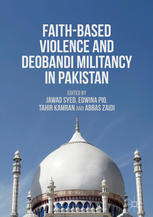 IFUT is pleased to announce the publishing of "Faith based violence and Deobandi militancy in Pakistan" by Palgrave Macmillan.  This is a seminal development in the area of faith-based violence and IFUT was one of the two sponsors of this book.
This book documents and highlights the Deobandi dimension of extremism and its implications for faith-based violence and terrorism. This dimension of radical Islam remains largely ignored or misunderstood in mainstream media and academic scholarship. The book addresses this gap. It also covers the Deobandi diaspora in the West and other countries and the role of its radical elements in transnational incidents of violence and terrorism. The specific identification of the radical Deobandi and Salafi identity of militants is useful to isolate them from the majority of peaceful Sunni and Shia Muslims. Such identification provides direction to governmental resources so they focus on those outfits, mosques, madrassas, charities, media and social medial channels that are associated with these ideologies. This book comes along at a time when there is a dire need for alternative and contextual discourses on terrorism. Source
IFUT will continue to promote and sponsor this book and will further sponsor the authorship of other similar books, studies and papers.