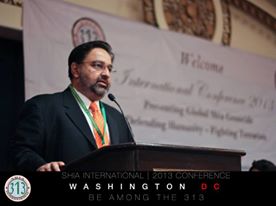 Interfaith Unity against Terrorism (IFUT) is a global interfaith organization that seeks to develop interfaith understanding and cooperation to protect the US homeland.
As patriotic Americans, we have witnessed the tragic attacks against our homeland from the early 1990s.  We feel that that there are multiple approaches to tackle extremist-inspired acts of terrorism. However the most important approach is to correctly identify the specific ideology that has inspired terrorist attacks on the US homeland from the 1993 attack on the World Trade center to 9/11 and onto the tragic massacre at San Bernardino.
Just as in World War II, we identified the totalitarian and exclusivist ideology of Nazism that threatened the Free World, today that same threat comes from the ideology of Takfeer as espoused by Wahhabism.
Education across various platforms is our biggest weapons in confronting ignorance and bigotry.
Americans can no longer afford the obfuscations being provided by Saudi-funded lobby groups.  We at IFUT feel that such obfuscations and apologist behavior is leading to more Islamophobia or fear of all Muslims  – whereas Muslims globally are themselves the biggest victims of Wahhabism and its local variants.
IFUT comprises of Muslims, Christians, Jews, Hindus, atheists and other activists of diverse faiths and ethnic backgrounds who want to unite against extremism. Our goals are to tabulate, analyse and protest against the terrorism being committed against our homeland.  Only by correctly identifying the source of extremism and terrorism can we take the correct approach to intellectually confronting these creeds.
Director: Ali Abbas Taj